About Me
Did You know as of March 8th 2013 according to Google (Analytics) in the past 2 years more than 11 thousand people from 142 countries has came to this ministry website? GLORY TO GOD!! I never intended for my ministry to go international but it did! :)
My name is Darryl and I am the author/webmaster and owner of this domain "Teaching The Way Ministries".
I have been a Born Again Christian for over 28 1/2 years now as of MAY 20th, 2014. Jesus Christ my Lord has chosen me for salvation when I was about 25 years old, at a time in my life to where I have just about given up on life completely
I had many of troubles in my life, mainly due to being born with a combination of severe ADHD (Attention Deficit Hyperactivity Disorder), Nervous Disorder, Severe Fatigue and type 2 diabetes. My life was like a roller coaster with those combinations of problems they tried to completely control me, my moods and my thinking abilities! IT IS A MIRACLE OF GOD THAT I AM ABLE TO RUN AND DO 2 DIFFERENT WEBSITES, My Ministry and my Business! GLORY TO GOD IN JESUS CHRIST!
Lets Continue. Talking about your body controlling you and having a short circuit in your brain and major swings in moods, and energy! I felt like a major roller coaster! Oh Boy! I am now 53 years old. I came to Jesus Christ in repentance and self denial, picked up my cross and follow Jesus Christ in learning and understanding his teachings since October 1986.
I spent my first 15 years of being a Born Again Christian, asking God, what do you want me to do constantly. He eventually revealed that to me. He waited until I was ready for it and put, denominational and independent churches, political and worldly ideas completely behind me. And for me to stop trusting what I was taught in the churches and to for my self to start in-depth biblical studies, instead of taking other peoples words for it, such as Pastors etc.
Only By Gods Holy Grace, he has blessed me with many talents & abilities such as self taught artist (drawing people etc) being creative (in many ways, computer, shooting pool, and ESPECIALLY me being a self teacher (via Holy Spirit) with truth and guidance, teaching me Gods Holy Words & common sense and so much more
I am only interested in Gods will, and words only through his son, our Lord Jesus Christ. This world itself has nothing to offer me that amounts to anything as compared to what our Lord Jesus Christ has to offer me!
My disabilities are the reasons why my favorite scriptures are
1 Corinthians 1:27-28
27 But God has chosen the foolish things of the world to put to shame the wise, and God has chosen the weak things of the world to put to shame the things which are mighty;

28 and the base things of the world and the things which are despised God has chosen, and the things which are not, to bring to nothing the things that are,
NKJV
My Family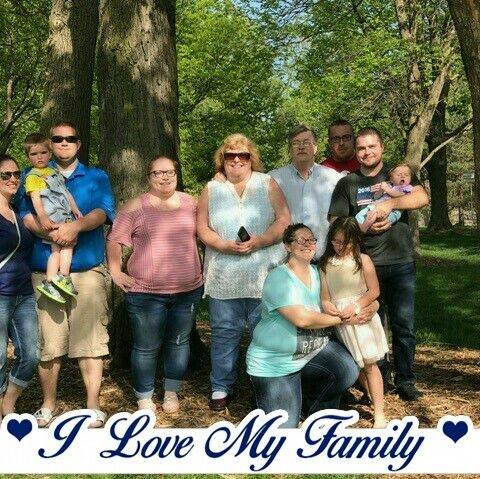 As of April 28th 2018 I have been married to a wonderful woman Teresa for 17 years. We been together for a total of about 21 years. Our wedding anniversary is April 28th. We are a blended family. I Brought one son Joshua-Age 25 now-in College & works as Store manager at a Auto Parts Store, and he has been married since May 2013. Now his wife is expecting a baby boy our first grandchild as of May 20th, 2014.
We usually Do not use the word step since that divides families instead of bringing them together like a complete family! Only this time I will use the word step.
In Picture above that was taken on Easter of 2016. Names of family from Let to Right, My daughter -m-law Caryn Zufelt, Our grandson Cayden Zufelt, My Biological Son Joshua Zufelt, Step Daughter Misty Letterman, My Wife Teresa Zufelt, Lower my Daughter-in law my step sons Jeremy Letterman wife, Step Granddaughter Peyton, Above me Darryl Zufelt, Step Son Bryon Letterman, Step Son Jeremy Letterman and Granddaughter Leah Letterman.
Teresa my wife brought Son Jeremy-Age 21- Factory Worker, Son Bryon-Age 28-A Sheriffs Deputy and a Army Vet as E4, He has served in Army in Iraq 2 times, and one Daughter Misty-Age 26-Works in Retail Sales.
All kids calls me dad, and her mom by their own choosing! :) We never use that dirty word "step!" That word "step" divides families, not bring them together.
And her x-husband and my x-wife has nothing to do with the children by their own choosing. The kids are not yet Born Again Christians though :(! Please Pray for their salvation! :)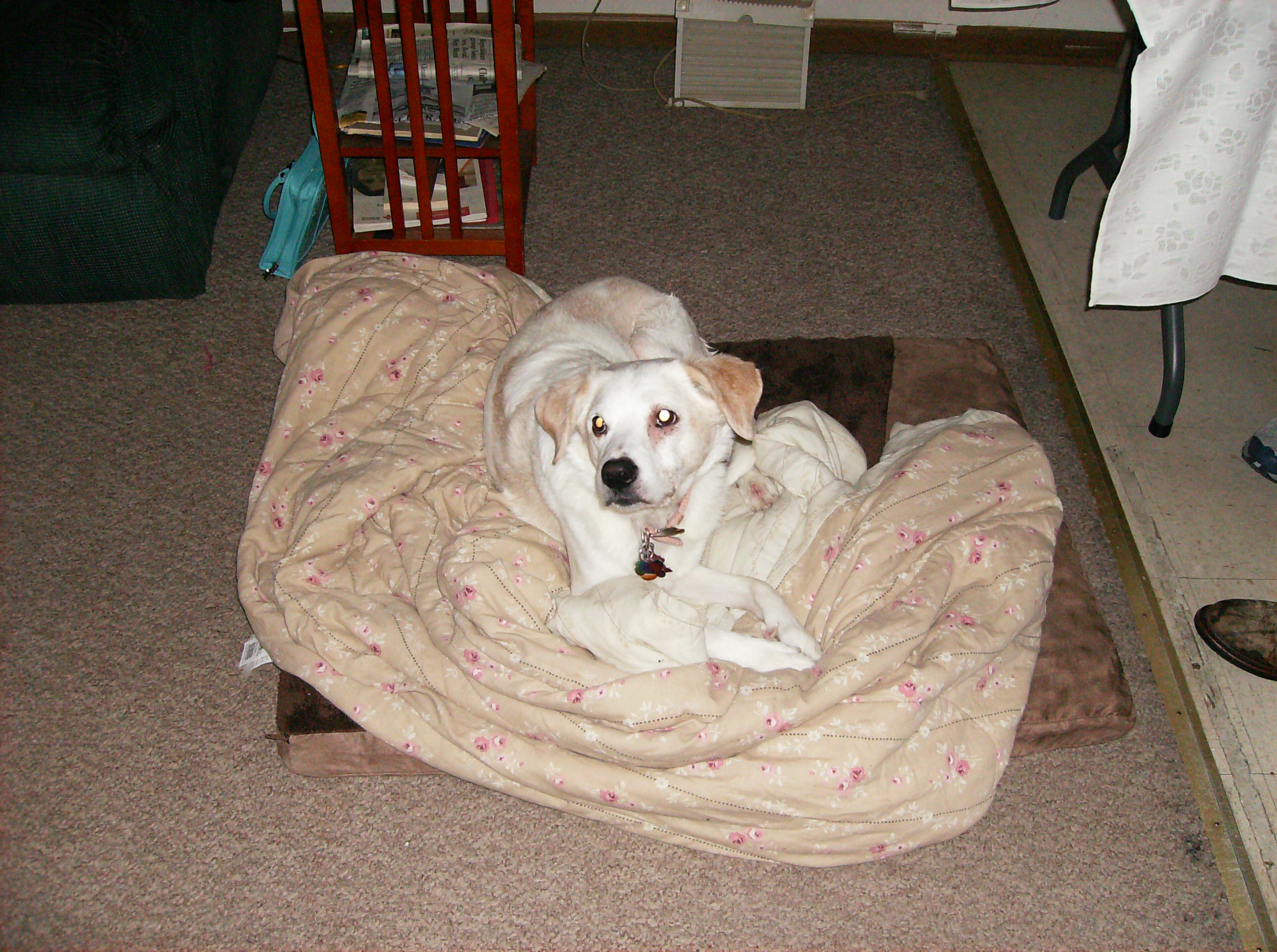 Our pet Brittany dog at age about 12 years, Princess Just passed away in Oct 15th, 2013. We believe it may have been cancer caused by chemicals sprayed by our landlord to get rid of bugs. We has her cremated at a local mortuary for pets.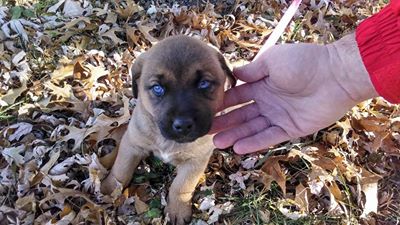 As of November 2013 we got a 6 week old puppy, that is a Catahoula Leopard Cure Dog. See Picture above when we brought her home. We call her Bella. As of July 2nd 2018 She is about 3 years and 9 months old. See Picture below. Her breed is from Louisiana USA. Indians used her breed for hunting.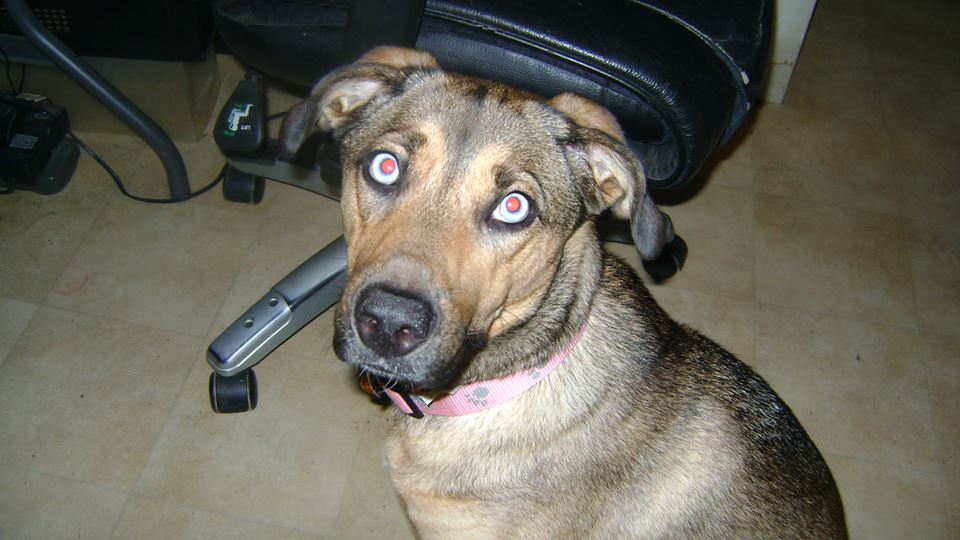 My Bible, Denomination & Church
Anymore we like to use the NIV since it is a thought for thought translation, that deals with the correct meaning that the Bible Authors meant., "Software". For Church we use the NIV bible app on our cell phones. This way the Bible Gods words are always with us And when needed I sometimes uses the 1599 Geneva Bible instead of the KJV Bible. Friend you should know that the KJV was created by a government "England" by King James, who was a roman catholic. The KJV was also created by a denomination, the Church of England!
Well friend, our true Church is the Body of Jesus Christ., that is Born Again Christians, to which are the Chosen ones, for there is no partiality between Jew or Gentile Romans 10:12.
Now friend we tell you this, that no church or denomination will get you into heaven. Only through Jesus Christ him self, may you have hope of salvation! Being a church member, "DOES NOT" guarantee you a place in heaven, nor does it guarantee that you are saved either.
My Ministry by Gods Holy Grace
The Purposes of My Ministry
a) Purpose 1: To bring the lost to Jesus
Christ by using the Law that show the unsaved what sin is and their sinful conditions (Ro 7:7-12) and that the law is perfect for converting the soul (Psalms 19:7) & Our Tutor that brings us to Jesus Christ (Gal 3:24-25). For it is the Law "Ten Commandments" that puts the mirror in front of us that shows us what sins (Rom 7:7) are and that we have sin against God and Mankind. The Law shows us that "We Have A Need" for a savior to take our sins away from us (1Tim 1:8).
b) Purpose 2: To help Christians to grow in
the faith, in hope they may be ready for solid food (1Co 3:2, Heb 5:12-14). To Teach the true Gospel of Jesus Christ, to help them to understand the meanings of the scriptures and how to apply them, and NOT be afraid to offend anyone (2Tim 3:16, 4:2, Titus 1:3, 2:15).
But teach the holy words of God with Love, Sincerity, and truth (Ro 12:9, 2Co 6:6, 11:3, 1Tim 1:5, 3:8, 2Tim 1:5, Heb 10:22, Ja 3:17, 1Pe 1:22) 12 (OLD EVANGELISM (Mt 4:3, Mk 13:31, L 6:46-48, Jn 15:7, ).
They Must Listen to our words (Mt 10:14) as long as our words are with-in the teachings of Jesus Christ and that we also practice what we preach to the best of our abilities (Ro 2:21, 2:1-6).
c) Purpose 3: To refute false (doctrines
(1Tim 4:16, 2Tim 4:3, Titus 1:9, 2:1) teachings, to correct & rebuke. for righteousness, (Mt 7:15-20, 2Tim 3:16 & Titus 1:9, 2:1, 2:7, 2:10 & 2John 2:9-10) less We must not become a stumbling block to our brothers and sisters in Jesus Christ, (Mt 13:24-30, Ro 14:3, 1Co 8:9, 2Co 6:3, Eph 4:2).
My calling is to WARN People and tell them that the time is short and my calling is to refute false doctrines and to teach many Christians the true Jesus Christ of the Bible and the correct doctrines according to what God meant the Bible to mean, Many of Christians does not have a clear understanding of Gods Holy Words to which is more than 80% of them because of the false doctrines of modern evangelism, new movements, such as Pentecostalism, Seventh Day Adventist, Emergent Church, Health Wealth and Prosperity and so on. There are many false teachings (doctrines) in the churches of today!
My ministry under Gods Grace is not an easy one. You do not make friends especially in these last days when it comes to telling people the absolute truth in accordance to Sound Doctrine (Gods Holy Words). But Jesus, Paul and the disciples did not make friends either, most of them were murdered because they spoke the truth.
Even Jesus Christ himself was severely hated mainly by religious people when he told the truth. They wanted to kill him for it. And the disciples later on with Paul was imprisoned and even killed for telling the truth as well.
And even in today's times many Christians are falsely accused, hated, imprisoned and even killed for telling the truth and for just being Christians! Read the Foxes Book of Martyrs and visit the following websites, Christian Martyrs, The Voice of the Martyrs, Today's Christian Martyrs.
This website is a part of my ministry. Another part of my ministry is Face book, chat rooms and forums, even though I do not like them. I go to them to spread the gospel of Jesus Christ to all types of religions and people such as Islam, Witches, Satanist, atheist and so fourth. Now a days though I must speak to Christian Communities but at times I speak to others as well.
By Gods Grace, I also help Christians with Scriptures, and other issues that they may have as well. God has given me the gifts and abilities to do all of that. With out Jesus Christ I can do nothing as it is written. Jesus did say that we will be hated, persecuted and even killed for his name sake, especially it seems we are persecuted by religious people, Christian and such as well.
My Education & Favorite Teachers
I do not have a bible or counseling degree. Of course nether did Jesus, Paul, or the Disciples either. They did not have a biblical degree or been to a seminary. They like us are taught by the Holy Spirit over time, instead of man made education.
I do have some college, but nothing that amounts to anything beyond first semester. And my major/minor was accounting, business and Law. Over the 28 1/2 years of my Christian life, I have studied and mediated on the Holy Words of God (Bible) and study them in depth. I still have allot of learning to go like anyone else.
I have listened to and watched countless of thousands of teachings to start my days off with. I love to hear Gods Holy Words Taught in accordance to sound doctrine on a daily basis. Call me a nut for Jesus Christ. :) And by Gods Grace I apply to my daily life of what I have learned to the best of my abilities. I like others, still have some struggles though, but through Jesus Christ all things are possible now aren't they?
My Favorite Teachers mostly are;
Word Pictures by Mark Keilar & Guest, &, Heart Cry Missionary Society w/Paul Washer, &The Way of The Master w/Kirk Cameron & Ray Comfort Included Living Waters, Quick Studies by Rod & Janice Hembree, Justin Peters, John Ankerburg.
These Teachers of Gods Holy Words are in accordance to Sound Doctrine!