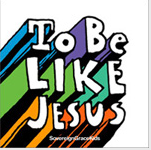 The fruits of the Spirit is actually Christian Attributes, that all (Saved) Born Again Christians should have. This is walking in the Spirit of God. Those that has the Spirit of our Lord Jesus Christ. And by walking in the Spirit we will not be submitting to the weak flesh, but instead we shall be submitting to God in all that we say and do. So in all of that we will not be carnal nor worldly. We will NOT be like the world, instead we will be Christ like! - (See Teaching on Fruits of the Spirit and Living by the Spirit)
Let Us Pray; Dear Heavenly Father, in your name, your name Jesus Christ and in the name of the Holy Spirit we pray that the beatitudes are the people that we are, that those are the spiritual blessings that we receive. We pray that we understand them and that our hearts are in line with them every day all day! AMEN!
Life (Walking) in the Spirit Gal 5:13-18
1) Gal 5:13-18 (Do Not Indulge The
Flesh)
A. Gal 5:13 Serve One Another in Love
B. Gal 5:14 Law Fulfilled Love One
Another
C. Gal 5:15 Do Not Bite/Devour Each
other
....
Life (Walking) in the Spirit Gal 5:13-18
2) Gal 5:16-18 (Walk in the Spirit)
A. Gal 5:16 Will Not Gratify the Flesh
B. Gal 5:17 Do Not Do What You
Want
C. Gal 5:18 Led by Spirit, Not Under
Law
Life in the Spirit Gal 5:19-21a
3) Gal 5:19-21 (The Acts of the Flesh)
A. Gal 5:19 Sexual Immorality, Impurity,
Debauchery
(Extreme Indulgence in bodily
Pleasures-Sex-Eating-Drinking-
Immorality-Hard Partying..)
Life in the Spirit Gal 5:19-21a
3 B. Gal 5:20 Idolatry, Witchcraft, Hatred,
Discord (Arguing-Lack of Harmony),
Jealousy, Rage, Selfishness,
dissensions factions
C. Gal 5:21 Envy, Drunkenness, Orgies,
Life in the Spirit Gal 5:21b-21c
4) Gal 5:21b (They will not enter heaven!)
A. Gal 5:21b Paul Warns them (Us)
B. Gal 5:21c No Heaven for them (Us)
Life in the Spirit Gal 5:22-23a
5) Gal 5:22-23a (Fruits of the Spirit)
1) Love, 8) Gentleness,
2) Joy, 9) Self Control
3) Peace,
4) Longsuffering,
5) Kindness,
6) Goodness,
7) Faithfulness,
Life in the Spirit Gal 5:23b-
6) Gal 5:23b-21 (Led by the Spirit)
A. Gal 5:23b No Law
B. Gal 5:24 Belong to Christ we
crucified the flesh
C. Gal 5:25 Yield ourselves to the Spirit,
Not Flesh
D. Gal 5:26 Do Not become Conceited
In Other Words - Love God,
Love Your Neighbor, Love your enemy