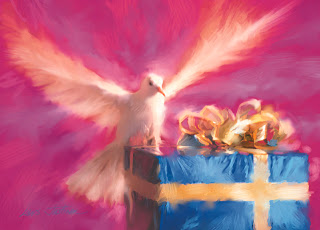 Now my friend these Spiritual Gifts are not meant for any personal gain nor a financial profit like a business. These gifts are ONLY for the purpose of bringing the entire Body of Jesus Christ (Born Again Christians) to unity in the Faith and for edifying the Body of Christ, (Ephesians 4:12-13)! Also See (1 Co 12:1-31, Eph 4:1-16, Phil 2:1-4)! These are special gifts given to us according to Gods will and Gods Purpose. (Teaching on Spiritual Gifts and Living by the Spirit)
Let Us Pray; Dear Heavenly Father, in your name, your name Jesus Christ and in the name of the Holy Spirit we pray that you choose us to be your servants, one of the gifts so that we may glorify you, honor you, and help to advance your holy Kingdom! And in doing so we may never use those gifts for personal or greedy gain like the wicked of the world! AMEN!
Spiritual Gifts Ephesians 4:7-16
Ephesians 4:11 And He Himself gave
some to be;
1) apostles,
2) prophets,
3) evangelists,
4) pastors
5) teachers
Purpose of Spiritual Gifts
Ephesians 4:12
to equip his people for works of service,
so the body of Christ may be built up
4:13 Until we all reach unity in the Faith
and in the knowledge of the Son of God
and become mature attaining to the whole
measure of the fullness of Christ.
We Won't Be Deceived By WOLVES
Ephesians 4:14
14 Then we will no longer be infants,
tossed back and forth by the waves, and
blown here and there by every wind of
teaching and by the cunning and
craftiness of men in their deceitful
scheming.
We Will Speak The Truth In Love
Ephesians 4:15
Instead, speaking the truth in love, we
will in all things grow up into him who is
the Head, that is, Christ.
16 From him the whole body, joined and
held together by every supporting
ligament, grows and builds itself up in
love, as each part does its work.